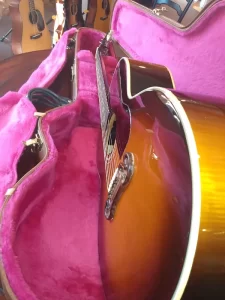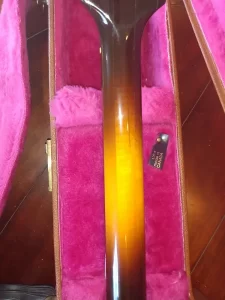 PRICE$3000.00 FOURTH OF JULY SALE! $2800.00
Here's a really rare Bozeman-made J-100, likely a prototype made alongside the other known SJ-100 prototypes made by Ren Ferguson and John Walker. This has hand scalloped braces like those guitars. The serial number matches closely to those guitars, but this one is made of flamed maple back and sides instead of mahogany and doesn't have the stair step headstock. It does have the factory SJ-100 pickguard, not seen on other guitars of the era. Completed on May 20th, 1991, Production Number: 24. This is not an Xtra model!
This is in nearly excellent condition for a 30 year old guitar, almost no dings to speak of. Original factory saddle height. Factory electronics. Ships in the Gibson OHSC with pink lining and cover. A real gem, you can't find another like this outside of a real vintage one.
Message with any questions!