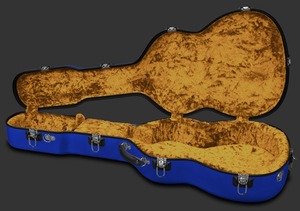 The options in the pictures & these will be in stock this month!
1. Brown and Gold
2. Brown and Black
3. Black and Red
4. Black and Gold
5. Yellow and Gold
6. Yellow and Black
Multiple options and colors
$1215.00    Plus $50.00 for shipping
Order Time Approximately 10 weeks if not in stock.
MATERIALS
Reinforced Multi-layer Fiberglass Shell
Premium Velvet Interior
Nickel Plated Steel Latches and D-rings
Rubber Latch Bumpers and Corner Bumpers
Nylon Shoulder Strap
Hand Stitched Leather Handle
FEATURES
Made in the USA in Austin, TX
Custom fit for the specified instrument
Road-ready latches protected by rubber bumpers
Padded pick box for storage
Neck guide suspender headstock in case
D-rings and shoulder strap for carrying (optional backpack straps)
Wide range of finishes to match our style
FEATURES
Crush Resistance
Cases can withstand up to 1100 lbs of pressure.
Drop Protection
Your instrument is kept safe in drops up to 9 ft.
Temperature Testing
Case maintains a gradual increase or decrease in internal temperature for up to 90 minutes.
Humidity Testing
Case maintains an ideal 50% interior humidity amid changes of external temperature from 30°F-105°F