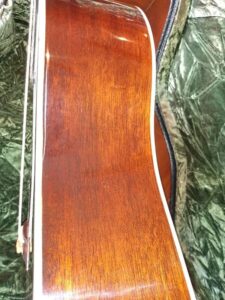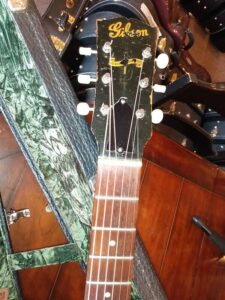 PRICE$9950.00 FOURTH OF JULY SALE! $8950.00
Serial # 2681 1943 Banner J- 45 …No repairs needed …, neck is good and no neck reset needed….Top back and sides Mahogony…..no fretboard wear,  pins tight, Tuners smooth/ clean, …………A BOMB!!!! It has had a pick-up  mounted near the bridge and have been professionally plugged. The guitar is crack free with no repairs on the inside and doesn't need any. It has just gone thru a professional refinishing and was beautifully done! It is fresh from the shop and dust likes it lol,   dale
Wartime production occasionally meant material shortages; while the standard J-45 has mahogany back, sides, and neck, Gibson had to replace some mahogany parts with laminated maple ones. Banner logo J-45s can be found with maple back and sides as well as maple necks. Some others were made with mahogany tops rather than spruce. Spruce shortages meant that some came out of the factory without bookmatched tops, and others came out with four-piece tops rather than the standard two.
Beginning in 1943, some J-45s were made with a black "skunk stripe" painted down the top. It's speculated that these stripes were either used to hide poor bookmatching due to spruce shortages, while others feel it's simply decorative.
In order to save metal for the war effort, some J-45 runs were produced with an ebony reinforcement bar rather than a standard truss rod. This can have an effect on the stability of the neck, and also means that the neck tension is not adjustable.